In addition to the lengthy playable demo of Final Fantasy X at the Tokyo Game Show, Square also provided a looping trailer for showgoers.The minute and a half trailer offers a brief look at the gorgeous rendered and realtime graphics of Final Fantasy X, as well as a larger view of the still-mysterious gameworld.
For our low-bandwidth readers, or those who would simply like a blow-by-blow analysis of the events in the trailer, we've also provided a detailed summary of the video itself. Unfortunately, Daily Radar's high-resolution capture has no soundtrack. For a sample of the newly featured voice acting and the game's music, readers should head over to The MadMan's Cafe for a lower-quality, but sound-filled, version of the same trailer.
For more even more TGS coverage of Square's latest Final Fantasy, be sure to check out our own TGS impressions, character details, and two sets of screens.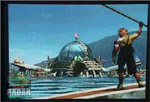 ---
1:36 TGS trailer without sound
MPG, 320 x 240, 13.2 MB
---
[source] » Daily Radar