Other
04.26.99
North American box art
More...
Astute observers may notice the English edition of Star Ocean: Second Story sports a brand new logo. Whereas the Japanese packaging used a logo overly reminiscient of Star Trek's, the shiny new North American logo features a different font and a redesigned color scheme.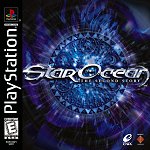 ---
North American front
---
[source] » Babbages / Software Etc.