Media
06.08.99
American promotional movie
More media
The Official PlayStation Magazine recently included the following promotional movie of Star Ocean: The Second Story on the included demo disc, promising "the most vast RPG experience ever." Grammatical awkwardness aside, the movie offers a fantastic look of Enix's latest RPG effort. The polygonal battle engine seems extremely innovative, graphics are filled with beautiful, lush backdrops, and the CG sequences seem solidly constructed.
The hefty movie is definitely worth the time spent downloading. Thanks to Taichou for the capture.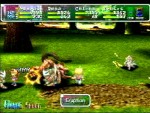 ---
Promo movie
MPEG, 320x240, 23.7 MB
---
[source] » OPM